Weekly Update: April 26, 2021
Upcoming Events
April 26th
Morning Meeting for all grades | 9:15 AM
Remote Live Times | Various
April 27th
Morning Meeting for all grades | 9:15 AM
Choir 8:00 AM | 3:15 PM
Remote Live Times | Various
Girls on the run @3:15
Board of Education Meeting @7:00 PM
April 28th
Morning Meeting for all grades | 9:15 AM
Remote Learning Live Times | Various
Spartan Food Pantry 4:30 PM-6:00 PM
April 29th
Morning Meeting for all grades | 9:15 AM
Remote Learning Live Times | Various
April 30th
Remote Learning Day for All Students
Supply Pick-up for Remote Students | 9:00 AM-11:30 AM
Morning Meeting for all grades | 9:15 AM
Delivery of Supplies Begin | 12:30 PM
Announcements
Yearbook information
Our West School Wildcats yearbook is almost ready to go to print! Do YOU have any photos that you would like to submit? Send them to: https://plicbooks.com/go/zbz6a (not every photo will be used due to space/quality, etc. but we will try)
DROP-OFF AND PICK-UP REMINDERS
With the change in number of students attending daily, we all need to make sure we are following the procedures for drop-off and pick-up to ensure a safe and efficient experience for everyone. A few helpful tips:
Student drop-off may begin as early as 8:45 and as late as 9:00.
When dropping off or picking up students, please use the designated area by the playground on each side of the school.
We ask that you please note the areas of "no parking" and please only use the student drop-off and pick-up area on the side of the school before and after school. We appreciate the courtesy to our neighbors by not parking on the street, using their driveways as turnabouts, or blocking their mailboxes.
If you are picking up your child please park your car and come and pick up your child. Our teachers will not allow students to go unless they see a parent/ guardian.
When picking up your child if you are on school grounds masks are required. If for some reason you are not able to wear a mask please contact the office.
Thank you for your patience and support as everyone navigates this together.
Arrival reminders:
Students will arrive at school between 8:45-9:00 AM
Doors will not open until 8:45 AM
There will be no supervision on playgrounds in the morning
K-2 students will enter through door W2
3rd-5th will enter through door W1
Students will either report to the cafeteria for breakfast or immediately to the classroom for morning work.
Bell at 9:05 AM then announcements and start our day.
Dismissal reminders:
Students will be dismissed beginning at 2:05 PM.
Bus riders will be dismissed at 2:05 PM from doors W2 and W1
Walkers and car riders will be dismissed at 2:10 PM from doors W2, W1, E1, and N1
Buses will leave by 2:10 PM.
***** In order to keep all of our families, students, and staff safe please make sure everyone is wearing a mask and practice socially distancing.
West Elementary Read a thon
Thank you to everyone who participated in our read a thon the past couple of weeks. As a whole school we raised $4,000 for the WSO and as a total we read over 40,000 minutes. Great job Wildcats! This was a huge success and we appreciate everyone for being a part of this.
At-Home Pizza Night Pack Winner- Mr. Buckner's Class
At-Home Movie Night Pack Winner- Mrs. Sauber's Class
Nintendo Switch Lite Winner- Jackson in Mr. Buckner's Class
Kindle Kids Winner- Colt in Mrs. Brooke's Class
The student who read the most minutes from each class will get to slime Mr. Schrader at a live virtual event.
ATTENDANCE
Students should always take time to complete the attendance form and watch the daily announcements first thing as part of their school routine. This is important so we can be assured students are participating in school and receive our state funding. We appreciate you making this a priority for your child each day. If your child will not be able to participate in the school sessions for that day, please call our office to report an absence at (815) 899-8199.
MEALS
Breakfast and lunch is available for all students attending in-person each day, free of charge. Peanut butter and jelly along with the main menu offering is available daily. Menus for breakfast and lunch can be found on the District website by clicking here. Families wishing to sign-up for meals on days when school is not in session should contact our office or the District office at (815) 899-8100.
Daily Self Certification
Please call the school office if your student is feeling ill, and be prepared to answer a few questions that will help us quickly and efficiently evaluate your child so that we can provide you information based on the latest recommended guidelines. It is imperative that if your student or anyone in the household is experiencing ANY of the following symptoms, they remain home from school and any extracurricular activities outside the home.
Fever or chills
Moderate to Severe Headache
Shortness of breath
Cough
Sore throat
Vomiting
Diarrhea
Abdominal pain
Congestion/runny nose
Loss of sense of taste or smell
Fatigue
Muscle or body aches
We know that things may look a little different this year and we are committed to keeping you informed on the changes that are taking place. Here is an overview of what your student can expect if they come to the Health Office with any of the symptoms listed above:
The student will be brought to the health office where the nurse or their designee will quickly evaluate the student's condition.
If it is determined that they are experiencing any COVID like symptoms the student will be escorted to a designated and supervised isolation area.
The school Nurse will notify the parent/guardian and walk them through the process of what is required for the student to return to school.
Sick students should be safely transported home by parent or guardian as soon as possible.
Other household members of the student will be sent home as well.
Students will be expected to remain home from school and any extracurricular activities until cleared to return by the school nurse.
2021-2022 School Registration is Now Open
The Online Registration application may only be completed by the primary residential guardian.
No payment will be taken during Online Registration. Payment for student fees will open on July 1, 2021.
If you need assistance through the application process, please contact us by email or call (815) 899-8100.
4TH GRADE GIRLS NIGHT OUT
Virtual Girls Night Out hosted by your District nurses in partnership with Northwestern Medicine will take place on Wednesday Night, May 12th. More details will be available in upcoming emails.
SPARTAN FOOD PANTRY OPEN WEDNESDAY!
The Spartan Food Pantry is excited to announce they have moved. On Wednesday, April 28th, patrons can collect food from their new location at the District Warehouse on 520 N. Maple Street, Sycamore. Pantry patrons are in-person shopping! Please bring a mask. The pantry hours are 4:30 PM-6:00 PM. The Pantry is open to any family that has a student attending a Sycamore School.
The pantry offers frozen foods, fresh produce, cereal, canned goods, snacks, treats, and much more. Sycamore School District families can come to the pantry every time it is open. Park in the lot next to the warehouse, come on in the front door, and a volunteer will guide you from there.
Community members can now volunteer at the pantry! If you or your organization want to help out, please email spartanfoodpantry@syc427.org for more information.
Be on the lookout for West Apparel Order form coming home with your student

Teacher and Staff Appreciation Week

April Core Value: Responsibility
Responsibility - means you do the things you are supposed to do and accept the results of your actions. A responsibility: something you are expected to do. Being responsible: doing the things you are supposed to do. Accepting responsibility: taking the praise or the blame for something you have done.
Questions to review with students:
What is responsibility?
Being accountable for what you do, for your actions and behavior.
Doing the right thing at the right time, so others can trust and depend on you.
Taking care of your property, yourself, and others.
To know what your job is and to do it to the best of your ability.
When you choose to make a poor decision, you admit to it, apologize for it, and then take steps to change it.
What are you responsible for?
My own actions
My time
My possessions
Chores
My family
Pets
Homework
My community
The Earth
What are ways you can show responsibility?
Complete your homework and chores on time without being reminded.
Follow through on your commitments, even when you don't feel like it.
Accept responsibility for your mistakes and learn from them. Don't make excuses or blame others.
Take care of your things and those of other people. Return items you borrow.
Find out what needs to be done and do it.
Make wise choices, such as choosing to eat healthy foods and wearing a helmet.
Always do your very best. Others are counting on you!
Book suggestions:
Grades K-­2
● Berenstain Bears Trouble at School, Jan Berenstain ● Five Little Monkeys with Nothing to Do, Eileen Christelow ● The Ant and the Grasshopper, Amy Lowry Poole ● Annie Shows Off, Shelagh Canning ● Clean Your Room, Harvey Moon! Pat Cummings ● Pigsty, Mark Teague ● Arthur's Pet Business, Marc Brown ● Mrs. Katz and Tush, Patricia Polacco ● Tops and Bottoms, Janet Stevens ● The Little Red Hen, Paul Galdone ● The Worst Day of My Life Ever! By Julia Cook ● If Everybody Did by Jo Ann Stover
Grades 3-­5
● A Day's Work, Eve Bunting ● Betsy Who Cried Wolf, Gail Carson ● Crow Boy, Taro Tashima ● Horton Hatches the Egg, Dr. Seuss ● The Paper Boy, Dav Pilkey ● Your Job is Easy, Carl Sommer ● Kate Shelley: Bound For a Legend, Robert D. San So ● The Boy of the Three Year Nap, Dianne Snyder ● Why Do Mosquitos Buzz In People's Ears? Verna Aardema ● I Just Want to Do It My Way! By Julia Cook ● Being Responsible by Cassie Mayer
Activities:
FMSC T-Shirt Design Contest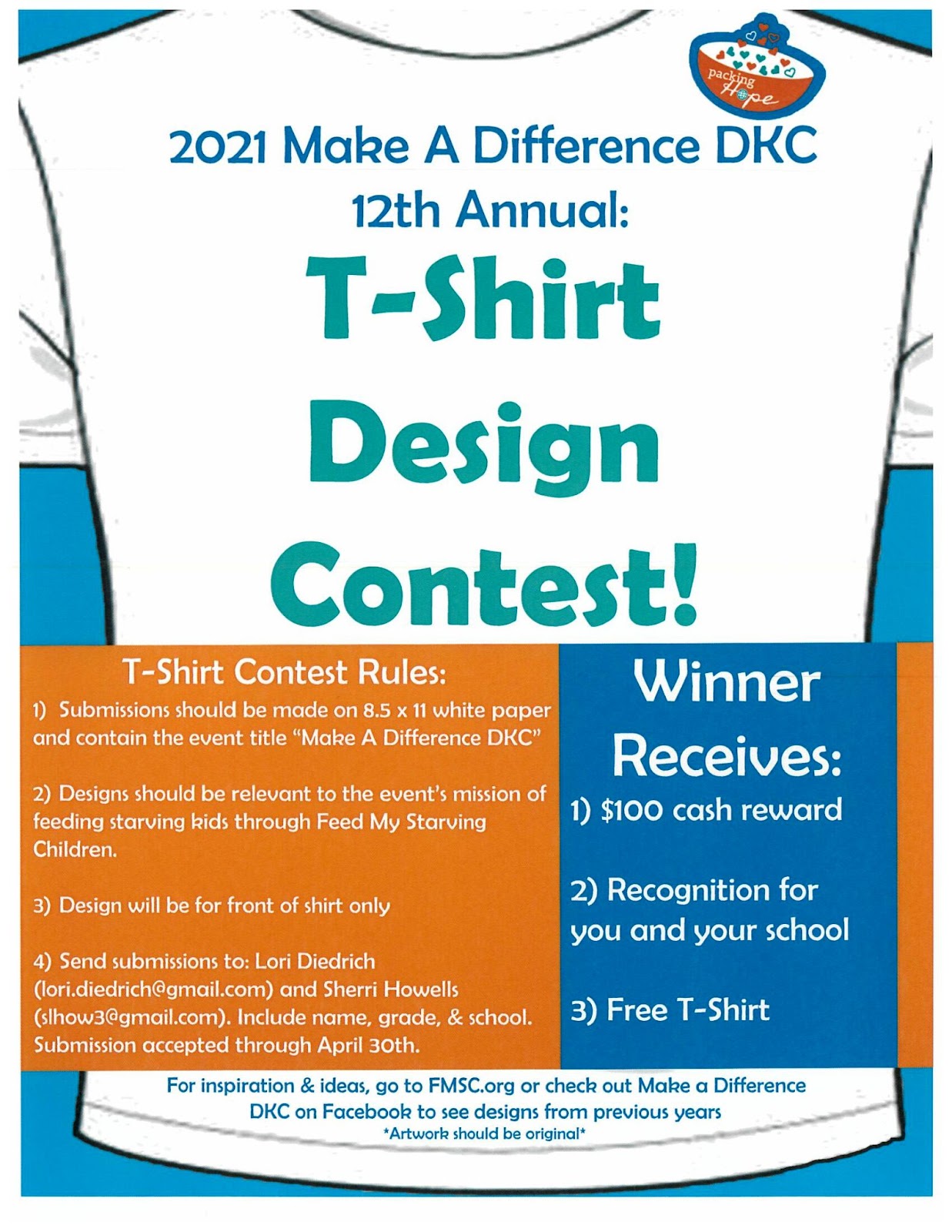 Upcoming Dates
Spartans REaD Together (One Book, One District) coming soon!
ISEL Testing for Kindergarten
MAP Testing for 1st-5th Grade Students
May 11th School Board Meeting
May 25th School Board Meeting
May 31st No School Memorial Day
June 4th last day of student attendance
Thank you,
Ryan Schrader
Go West Wildcats!!!